2017-2018 Catholic Worldview Fellowship Leadership Team
Fr. Ryan Richardson, LC
Executive Director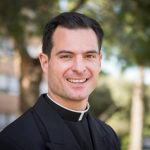 Father Ryan Richardson is a spiritual director for college age students and young adults in the Diocese of Dallas, Texas. He graduated summa cum laude in 2003 from Loyola University New Orleans, where he obtained a bachelor's degree in Economics and received the John X Wegman Award for Most Outstanding Business Undergraduate. After graduation, he volunteered one year as Director of Chapter Development for COMPASS, a national network of Catholic college students. He was named the program's Executive Director in 2004 and in 2005 joined the Legionaries of Christ. During his years of priestly formation he has served as an Assistant to the Instructor of Novices in Cheshire, CT and co-founder of Upper Room Rome, an apostolate that networks English speaking Catholic college students in the Eternal City. In 2016, he graduated summa cum laude with degrees in Philosophy and Theology from the Pontifical Athenaeum Regina Apostolorum in Rome, Italy. He was ordained a priest on December 10, 2016 in Rome .
Katie Lundstrom
Director of Leadership Formation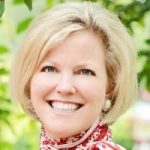 Katie Lundstrom, MBA, PCC, is the founder and President of Firm Foundations Inc (FFI), an executive leadership coaching and strategy and change consulting firm based in the Washington, D.C. area.  She has almost 30 years of experience serving hundreds of clients across all types of industries in the areas of strategic planning, organizational change, individual and business transformation, performance management, strategic and tactical alignment, and changing corporate culture.  She is most passionate about partnering with leaders who really want to see change for themselves, their teams, and their organizations.  She uses coaching, strategic planning, appreciative inquiry and facilitation as core techniques to make change happen.  Currently, Katie is working with teams from two to 18 to strengthen their performance as well as individually coaching on average 15 leaders.
Fr. John Bartunek
Course Instructor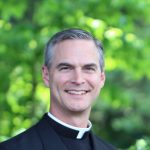 Fr. John Bartunek, LC, S.Th.D, received his BA in History from Stanford University in 1990. He comes from an evangelical Christian background and became a member of the Catholic Church in 1991. After college, he worked as a high school history teacher, drama director, and baseball coach. He then spent a year as a professional actor in Chicago before entering the religious Congregation of the Legionaries of Christ in 1993. He was ordained a Catholic priest in 2003 and earned his doctorate in moral theology in 2010. He provided spiritual support on the set of Mel Gibson's "The Passion of the Christ" while researching the 2005 Catholic best seller, "Inside the Passion"–the only authorized, behind-the-scene explanation of the film. Fr. John has contributed news commentary regarding religious issues on NBC, CNN, Fox, and the BBC. He also served as the English-language press liaison for the Vatican's 2005 Synod of Bishops on the Eucharist. His most widely known book is called: "The Better Part: A Christ-Centered Resource for Personal Prayer". His most recent books are "Spring Meditations", "Seeking First the Kingdom: 30 Meditations on How to Love God with All Your Heart, Soul, Mind and Strength", and "Answers: Catholic Advice for Your Spiritual Questions". Fr. John currently splits his time between Michigan (where he continues his writing apostolate and serves as a confessor and spiritual director at the Queen of the Family Retreat Center) and Rome, where he teaches theology at Regina Apostolorum. His online, do-it-yourself retreats are available at RCSpirituality.org, and he answers questions about the spiritual life at SpiritualDirection.com.
Mary Schwarz
Spiritual Director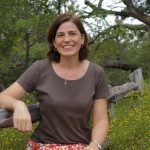 Mary Schwarz, originally from Rhode Island, has been a Consecrated Woman of Regnum Christi since 2000, and currently serves as director of her community in Dallas, TX. She holds a BA in English from Grove City College (PA), and a MA in philosophy from Franciscan University. During the years 2002 – 2005, she formed part of the staff for COMPASS, a national network of Catholic college students, serving as as a formation leader and spiritual mentor. In the past few years, she continues as a spiritual director for young women in the area, and has also been working to finish her doctorate in philosophy at the University of Dallas, with a special interest in the thought of St. Edith Stein.
Christina McShane
Director of Operations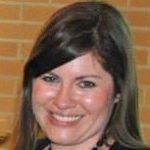 Christina McShane, Psy.D., has over 10 years of experience working with individuals, teams, and leaders in non-profits, general industry, and federal government sectors.  She received her Bachelors degree in Communications and Theology from Franciscan University of Steubenville and her Masters and Doctorate in Clinical Psychology from the Institute for the Psychological Sciences.  Prior to beginning management consulting in 2015, Christina worked with a variety of clients providing project management, event coordination, customer service, corporate communications management, and leadership development.  Additionally, with her doctorate in Clinical Psychology, she has much experience working with groups and individuals in areas including increasing collaboration, improving communication skills, and assessing/improving both individual and organizational internal health.   Christina currently assists in working with leadership teams to mature their leadership capabilities in order to achieve outstanding results.  She does this by offering workshops and trainings to develop high- performing, healthy cultures within organizations.  Additionally, Christina provides consultation on psychological evaluations for candidates for priestly formation.
Br. Gabriel Wendt, L.C.
Director of Formation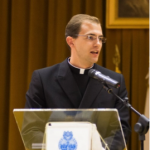 Br. Gabriel Wendt, LC is an Assistant Professor of Philosophy at the Pontifical Athenaeum Regina Apostolorum in Rome. He was born and raised in Göttingen, Germany and has had educational experiences in Germany, Mexico and Italy. In 2006, he joined the Legionaries of Christ Novitiate in Germany, where he later served as a faculty member, offering accompaniment and personal coaching to younger seminarians. He has obtained academic degrees at the Pontifical Athenaeum Regina Apostolorum, where he graduated with a bachelor's degree in Philosophy in 2010 and summa cum laude with a licentiate degree in Philosophy in 2014. He is currently working on his PhD, with a specific focus on the Catholic Weltanschauung (Worldview) based on the philosophical and theological thought of Romano Guardini. This was also the topic of his first book, which was published in 2014.
Becci Sheptock
Administrator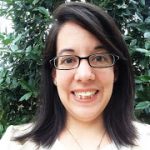 Becci Sheptock is originally from Fort Worth, Texas, received her undergrad from Loyola University in New Orleans, and then volunteered with Regnum Christi Mission Corps. She is now consecrated with Regnum Christi currently works for the Institute for the Psychological Sciences at Divine Mercy University, assisting with administration and accreditation. She enjoys working in higher education institutions and serving college-aged students.
Br. Michael Baggot, L.C.
Director of Rome Office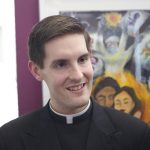 Fr. Michael Baggot, LC PhD cand. is Assistant Professor of Bioethics at the Pontifical Athenaeum Regina Apostolorum, where he is also Correspondent for its UNESCO Chair of Bioethics and Human Rights. He graduated summa cum laude from Christendom College with a B.A. in Philosophy while serving as Head Resident Assistant, before working in Rome as a Resident Director for the school's study abroad program. In 2013, he obtained a Licentiate in Philosophy summa cum laude and in 2017 a Baccalaureate in Sacred Theology summa cum laude from the Pontifical Athenaeum Regina Apostolorum in Rome. He spent his initial period of religious formation near Cologne, Germany. He later worked as an assistant for the Curso de Hispanidad in Mexico City and as a teacher at Pinecrest Academy in Atlanta, Georgia. He has also worked as an Art and Faith tour guide in the Vatican Museums. His writing has appeared in First Things, LifeSiteNews, and Studia Bioethica.
Monica Trevino
Spiritual Guide/Regional Coordinator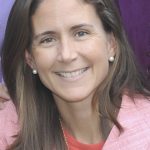 Monica Trevino, a native of Monterrey, Mexico is a consecrated woman of Regnum Christi now serving in the diocese of Galveston-Houston as a spiritual director for college students and young adults. Monica has been consecrated for 23 years. After finishing undergraduate studies in Rome, she served 6 years in Chile and Argentina directing groups of college students. From 2001 to 2012 Monica served as the territorial director for the consecrated women in North America overseeing the governance of the consecrated women and their collaboration in the apostolate of the Regnum Christi Movement in the United States, Canada and the Philippines. She recently graduated summa cum laude from Notre Dame Graduate School of Christendom College where she obtained an MA in Theological Studies with a concentration in consecrated life.